Boards
Boards are an amazing tool to quickly overview and easily manage your workload.
In DoneTonic there are two types of boards: Kanban and sprint.
In Kanban boards tasks are grouped by their statuses on the top side, and by a choice of possibilities (by tag, assignee, due date or importance) on the left side.
Sprint boards are automatically added at sprint creation. The main difference for sprint boards is that tasks are always grouped by their PBI on the left side of the screen.
Aside from those differences, you will find similar functionalities in both of them. You can create new tasks or new statuses. Quickly change the details of a task by clicking on the icons on it, or click on it to see the full details.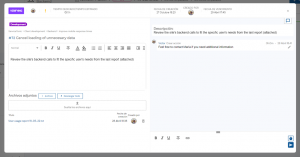 Change the status of your tasks by clicking on the colored square or just dragging them to a different column on the board.
Learn more about the task detail view here.